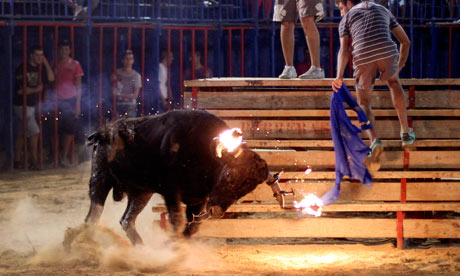 It is the end of a long career, deemed venerable by those who admire Spanish fighting bulls.
In the early hours of Sunday morning, the half-tonne 11-year-old killer bull known as Ratón, or Mouse, will feel a bullring's sand under his hooves and sniff the scent of commingled human adrenaline and fear for the last time.
Those who pay their €2.50 (£2.20) in Canals, eastern Spain, will witness the final chapter of a life spent chasing, and occasionally goring, people. Fans are expected to arrive from around the country.
Many will be secretly hoping Ratón, who has killed two and reportedly gored five others in his career, will draw blood at his valedictory outing in the small town near Valencia. A fiesta poster promises "a show with the presence of the famous Ratón" starting at 12.30am. It does not mention that Ratón killed a spectator in nearby Xátiva last month and another man in 2008.
Canals mayor, Ricardo Cardona, claims to have been unaware of Ratón's bloody past when hiring him. He has asked the bull's owner, Gregorio de Jesús, to prevent members of the public coming face to face with the beast.
Four professional recortadores, or bull-taunters, will instead dodge in front of him in the bullring, encouraging him to chase them over obstacles for up to half an hour.
"It is when someone jumps in spontaneously that things inevitably happen," De Jesús said this month.
Police and security staff will try to prevent enthusiastic amateurs jumping into the ring with Spain's most infamous bull.
The future of Ratón, who is past retirement age, remains uncertain. De Jesús wants to clone the bull but is waiting to hear if he will receive local government funds to pay for it.