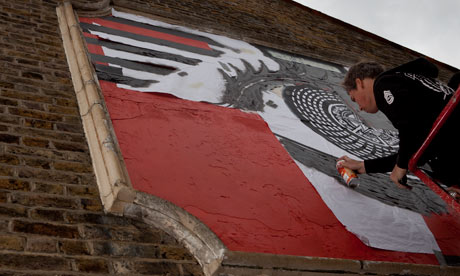 .Photograph: Teri Pengilley
The natural territory of the street artist Shepard Fairey would seem to be as all-American as it gets. Emerging from the country's skateboarding scene he achieved global prominence with his much copied, much parodied Hope poster displaying a stylised Barack Obama in shades of blue and red.
He spent much of Friday assembling his latest street mural in a seemingly less likely locale – a suburban street in Turnpike Lane, one of north London's more economically mixed neighbourhoods.
Hoisted aloft by a rented cherry picker, the 42-year-old artist used stencils and paint to create Envision, an image of a giant, stylised eyeball design, set in the frame of a disused Victorian placard site on the wall of a local shop.
The unlikely public commission, carried out with any charge by the artist, was the almost accidental result of a wider community regeneration programme carried out by the local council, Haringey, and the green travel charity Sustrans.
In getting together to decide options for more pedestrian-friendly street layouts, locals pondered what to do with the crumbling and slightly tatty shop wall, and decided the existing frame left by the long-disappeared Victorian placard would be best filled by a mural.
James Straffon, a local who helped organise the project, went to a London art gallery specialising in graffiti artists to seek help.
He said: "The woman from the gallery asked: 'Ideally, who would you like?' I said: 'I know it would never happen, but Shepard Fairy.' She said: 'Shall I get in touch with him, then?' I stuck my neck out and said yes and sent them a diagram with the sizes, thinking nothing would happen. Literally a week later they said, he's interested and he's coming over."
Straffon says he remains unsure why such a celebrated artist would be interested in a relatively out-of-the-way location. He said: "I think what sold it was that it's an old Victorian billboard. I think they like the fact it's the old London thing."
Before Fairey arrived, Straffon and some neighbours spent a day preparing the wall, painting it in a specified shade of red for a background to the stencilled design.
The US artist and his team spent several hours in decidedly mixed weather putting the design in place. Straffon said: "He's come from west coast America to dreary, sodden London. He must be thinking: 'Great, I've got to do this.' It's quite windy, too."
Another oddity is that this is Turnpike Lane's second work by a globally-known street artist in a matter of months. Last month, a mural believed to be by Banksy, a rough UK equivalent to Fairey, appeared on the wall of the area's local Poundland shop, showing a child sweatshop worker sewing jubilee bunting.