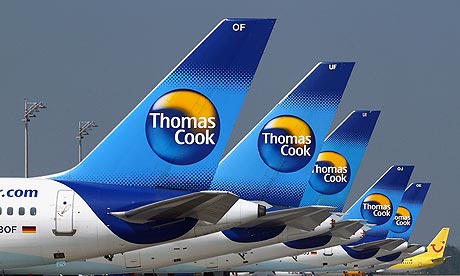 Thomas Cook is running low on cash and has begun talks with its banks, in an effort to increase its borrowings to tide it over the slow Christmas season.
Shares in the tour operator fell by more than three quarters on Tuesday morning after it admitted that trading has "deteriorated" in recent months. It is now seeking to borrow more in the short term, and has postponed the publication of its financial results until the talks are concluded.
Shares in the company, which abruptly lost its chief executive three months ago, tumbled by more than 75% to 9.3p at one stage.
Tour operators tend to run low on cash in the slower winter months, but even so, the news stunned the City. Only last month, Thomas Cook said it had agreed a further £100m in short-term funding from its banks explicitly for the winter lull.
A spokeswoman said that discussions with banks were merely a "prudent" and "pro-active" move. Thomas Cook still has cash in the bank, she said, but wants to be prepared for any unexpected shocks over Christmas. All customer orders are protected by the ATOL protection scheme and equivalent programmes, she added. "Thomas Cook still has cash on the balance sheet, but because conditions have deteriorated further [since October], particularly around trading, some of that extra funding has been used up. Thomas Cook feels it needs more headroom to be prudent," she said.
Interim CEO Sam Weihagen added: "It's business as usual. We are trading within all out business, and financial, covenants, we have all the protection in place like any other travel company, and customers should not worry at all."
The company is seeking roughly £100m more in its latest talks. It made the decision to renew talks with banks on financing after realising the scale of the recent downturn in an internal trading update meeting yesterday.